Facing criminal charges can be an overwhelming and daunting experience, but finding the right criminal defense attorney is crucial to ensuring your rights are protected. We have put together a list of the top 5 criminal lawyers in Irmo, SC, to help you navigate the legal landscape and secure the best possible outcome for your case. Read on to discover detailed profiles and contact information for each attorney, so you can confidently choose the right representation for your unique circumstances.
1. The Laubshire Law Firm, LLC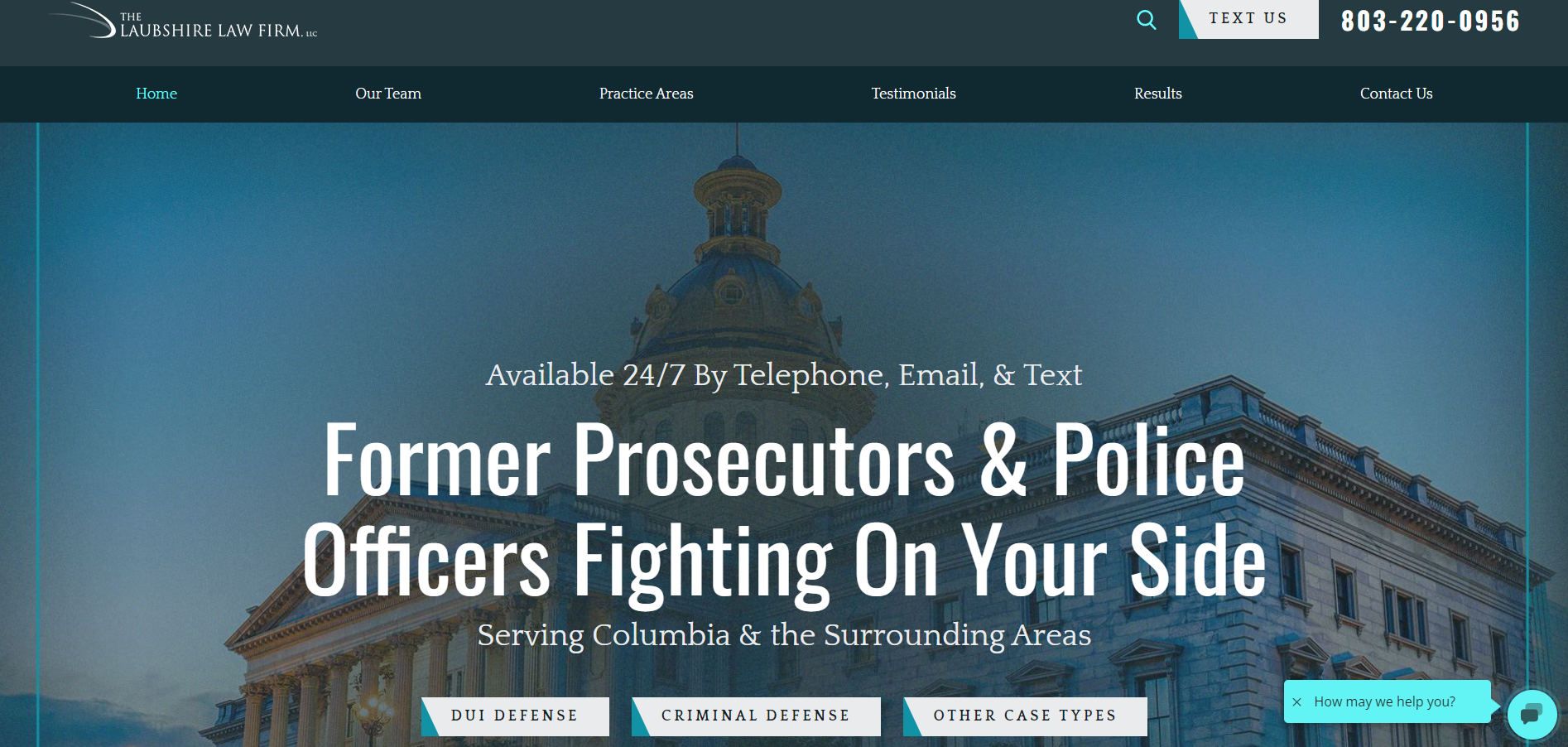 The Laubshire Law Firm, LLC specializes in DUI and criminal defense, providing unmatched legal representation for clients facing various criminal charges. Attorney Michael Laubshire, a former prosecutor and deputy sheriff, brings unique insights and invaluable experience. This allows him to anticipate the tactics used by the prosecution and develop personalized defense strategies tailored to each client's specific situation.
The firm handles various criminal cases, including domestic violence, drug crimes, expungement, juvenile crimes, property crimes, public disorderly conduct, sex crimes, theft crimes, underage possession of alcohol, violent crimes, and white-collar crimes. With a commitment to exhausting all possible defense options, The Laubshire Law Firm, LLC works tirelessly to protect clients' rights and reputations.
Contact The Laubshire Law Firm, LLC today for a free consultation online or by calling (803) 220-0956 to discuss your case with a dedicated and experienced criminal defense attorney.
Address: 455 St Andrews Rd Suite E-1, Columbia, SC 29210
Phone: (803) 220-0956
Website: https://www.laubshirelaw.com/
2. Tommy A. Thomas, Attorney at Law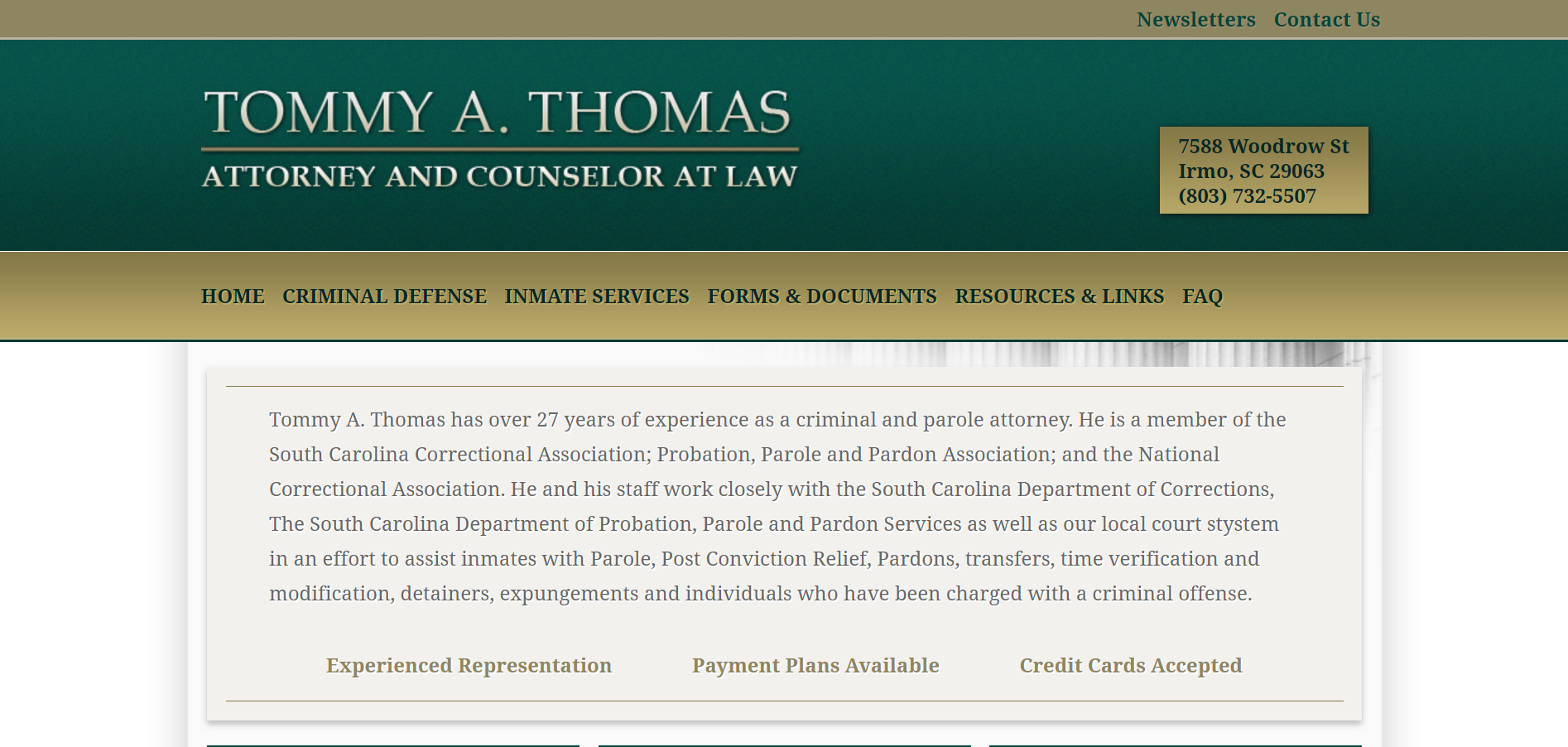 With over 27 years of experience, Tommy A. Thomas is a seasoned criminal and parole attorney dedicated to helping clients navigate the complexities of the legal system. As a member of the South Carolina Correctional Association, Probation, Parole, Pardon Association, and the National Correctional Association, he and his staff work closely with various state departments and local courts to provide comprehensive legal representation.
Tommy A. Thomas handles many criminal cases, including bond reductions, criminal domestic violence, driving under the influence, drug offenses, expungements, general session charges, and magistrate and municipal court cases. He is committed to providing honest, straightforward advice to help clients make informed decisions about their legal options.
Some of the services provided by Tommy A. Thomas includes:
Bond Reduction: Assistance in modifying an initial bond if set too high.
Criminal Domestic Violence: Representation in cases where even if the victim does not want to press charges, the court may continue with the case and convict the defendant.
Driving Under the Influence: Diligent representation to reduce or eliminate the consequences of a DUI conviction, such as fines, jail time, driver's license suspension, and increased insurance rates.
Drug Offenses: Legal counsel for cases involving marijuana, cocaine, or other drug possession or trafficking charges, ensuring clients receive proper credit for time spent in jail and that their sentence is parole eligible.
Expungements: Assistance in clearing arrest records for charges that were dismissed, not processed, or found not guilty, as well as certain convictions.
General Sessions Charges: Competent legal counsel for clients facing criminal charges in the Court of General Sessions, which has the jurisdiction to impose fines, probation, and incarceration.
Magistrate and Municipal Court: Guidance to prevent long-term consequences for charges in the Magistrate and Municipal Courts, including first-offense DUI, traffic violations, criminal domestic violence, drug charges, and simple assault.
If you're facing criminal charges and need an experienced attorney, contact Tommy A. Thomas today to discuss your situation and learn more about the legal options available to you.
Address: 7588 Woodrow St, Irmo, SC 29063
Phone: (803) 732-5507
Website: https://www.paroleme.com/

3. Law Offices of Lori S. Murray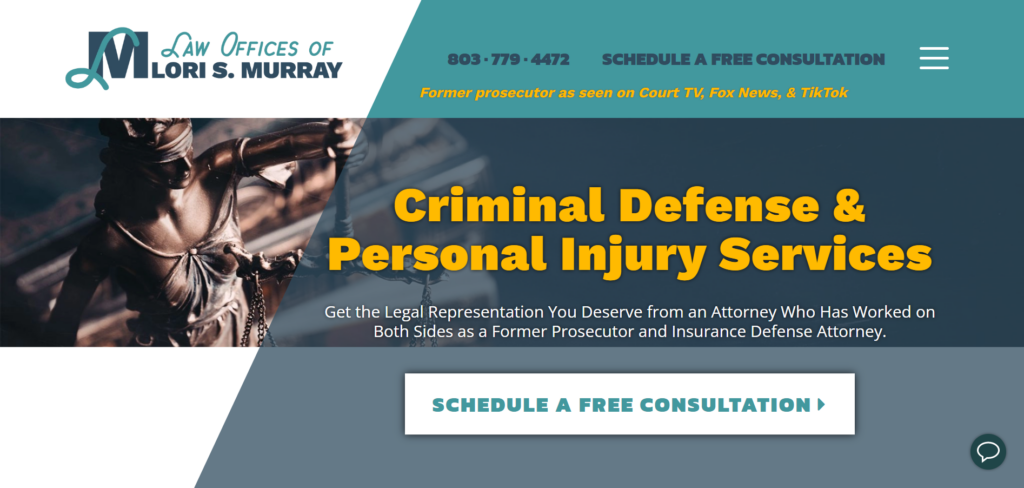 Lori S. Murray, a Columbia criminal defense attorney, brings a wealth of experience to her practice at the Law Offices of Lori S. Murray. As a former prosecutor and a criminal defense and personal injury attorney, she offers a unique perspective by understanding both sides of the defense in your case.
When facing criminal charges, seeking legal representation from a seasoned criminal defense attorney is essential. Lori Murray's experience in over 2,000 cases means she knows the court processes inside and out. Her track record as a negotiator and litigator covers a broad range of criminal cases.
Criminal charges in South Carolina carry various consequences, including jail time, fines, probation, community service, court costs, and restitution to the victim. Lori Murray can help you navigate these potential outcomes in cases such as:
– Drug charges
– DUI
– Domestic violence
– Criminal sexual misconduct
– Assault & battery
– Violent & nonviolent offenses
Felony convictions can also lead to the loss of voting rights, gun rights, driving privileges, and government benefits, as well as showing up on background checks. The Law Offices of Lori S. Murray is committed to ensuring fair treatment for clients facing criminal charges and providing exceptional legal services and attentive client care throughout the process.
When you choose Lori S. Murray as your criminal defense attorney, you can expect:
– Free initial consultation to determine if her legal team is the right fit for your case.
– Flexible appointment times, including evening and weekend hours and off-site meetings if necessary.
– Fast response times and open communication with direct access to your attorney.
– Transparent and forthright legal advice will help you make the most of your situation.
Don't leave your future to chance. Trust Lori S. Murray to provide the best possible defense for your criminal case.
Address: 2016 Lincoln St, Columbia, SC 29201
Phone: (803) 779-4472
Website: https://www.lorimurraylaw.com/

4. The Steele Law Firm, LLC
The Steele Law Firm, LLC, led by a Columbia criminal defense attorney, provides high-quality legal representation for individuals facing criminal charges in South Carolina. With over 20 years of experience as a former prosecutor, the firm's lead attorney has extensive trial expertise to handle criminal cases effectively and responsively.
If you face criminal charges, the consequences can be severe, including imprisonment, fines, and a criminal record. The Steele Law Firm, LLC, can help you navigate these potential outcomes and will carefully review all the evidence against you to develop the strongest defense strategy possible.
The firm can defend clients against a wide range of criminal charges, including:
– Drunk driving (DUI/DWI) defense
– Theft crimes
– Juvenile crime defense
– Drug crime defense
– Criminal domestic violence defense
– Criminal Defense for college students
– White-collar crime defense
– Fraud offenses
– Robbery
– Burglary
– Probation and parole violations
It is essential to contact the firm as soon as you are charged with a crime, allowing them to investigate your case and analyze the evidence against you thoroughly. Delaying representation could put you and your case at a disadvantage.
As a former prosecutor in South Carolina, the lead attorney at The Steele Law Firm, LLC, understands how the prosecution approaches cases and can prepare your defense accordingly. The firm will work diligently to help you achieve a positive result, such as dismissal or reduction of charges, and provide you with an experienced and motivated criminal defense attorney to protect your rights.
Call to schedule a free consultation with a skilled Columbia criminal defense attorney today.
Address: 125 Executive Pointe Blvd #205, Columbia, SC 29210
Phone: (803) 402-8544
Website: http://www.steelelawsc.com/
5. Pinilla Law Firm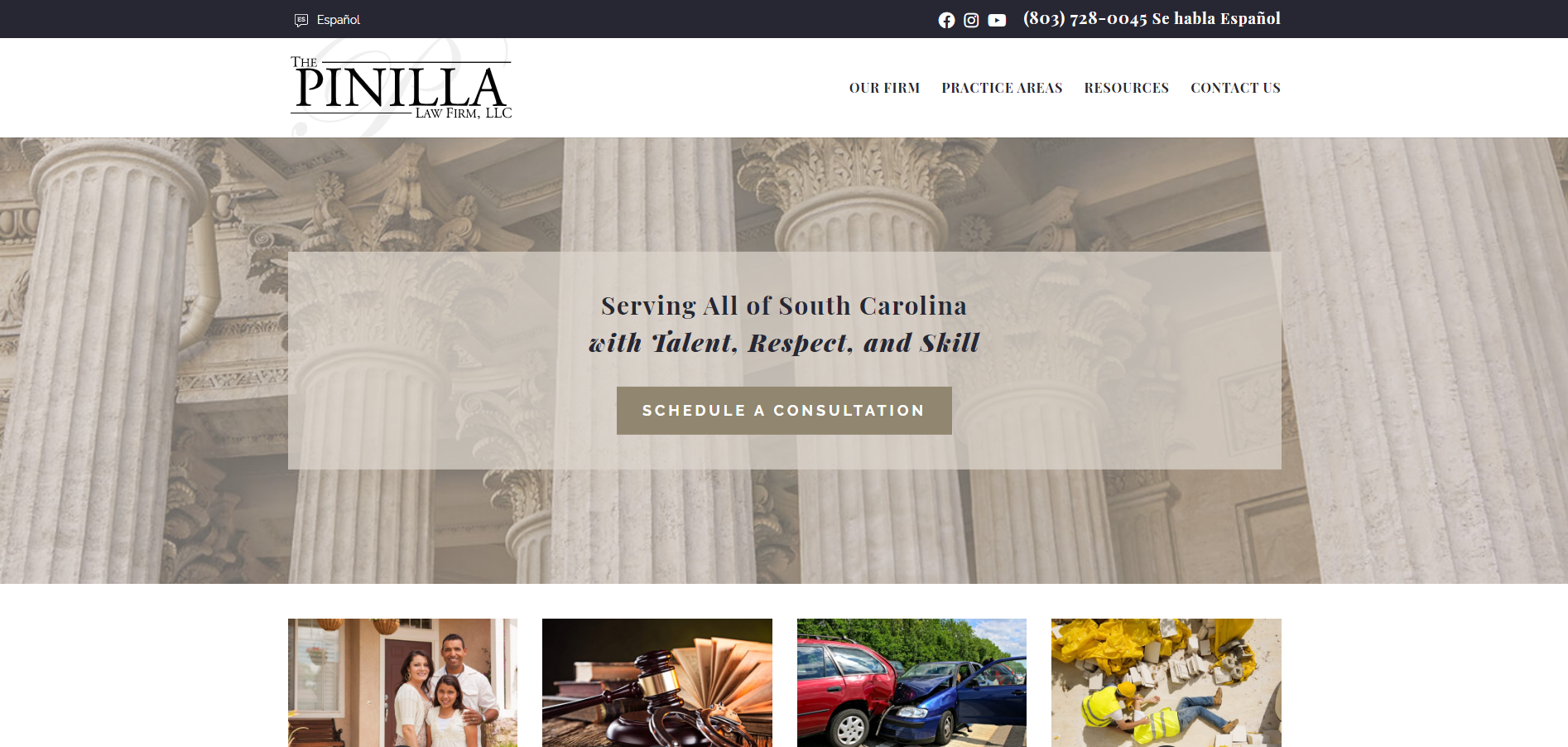 Pinilla Law Firm, LLC is dedicated to safeguarding the rights and interests of its clients in various legal areas, including immigration, criminal defense, personal injury, and worker's compensation. Their team of experienced attorneys understands the importance of having aggressive representation when facing criminal charges, whether misdemeanors or felonies.
The firm's criminal defense practice areas include:
– Assault & Battery
– DUI
– Drug Charges
– Domestic Violence
– Fraud
– Probation Violations
– Theft
– Traffic Violations
At Pinilla Law, the team of skilled criminal defense attorneys will thoroughly review the evidence in your case and craft a tailored defense strategy to either have the charges against you dropped or reduced. They are committed to protecting your freedom and future by going the extra mile to ensure the best possible outcome for your case.
If you or someone you know is facing criminal charges in South Carolina, don't hesitate to contact Pinilla Law Firm. Their legal professionals will discuss your situation and immediately begin working on achieving the best possible outcome for your case.
In conclusion, Irmo, South Carolina is home to a variety of exceptional criminal defense lawyers dedicated to providing top-notch legal representation. Each of these five law firms—1) Law Office of Michael J. Mungiello, 2) Tommy A. Thomas, Attorney at Law, 3) Law Offices of Lori S. Murray, 4) The Steele Law Firm, LLC, and 5) Pinilla Law Firm—offers a unique approach and a wealth of experience in handling various criminal defense cases. From DUIs to drug charges and domestic violence, these skilled attorneys will aggressively defend your rights and work tirelessly to achieve the best possible outcome for your case. If you or a loved one is facing criminal charges, don't hesitate to consult one of these highly-regarded law firms to ensure that your legal needs are met with the utmost professionalism and care.