Are you looking for the top immigration lawyers in Irmo, SC? Whether you are applying for a visa, green card or other immigration services, it is important to find an experienced and knowledgeable immigration attorney who can help guide you through the process. To make your search easier, we have compiled a list of the top five immigration lawyers in Irmo, SC. Each of these attorneys has extensive experience dealing with a variety of immigration-related issues and can provide you with the necessary legal advice and advocacy to help ensure your success.
We have taken into consideration factors such as client reviews, expertise, availability and overall customer satisfaction when creating this list. So whether you are looking for permanent residency, a marriage visa or naturalization assistance, we strongly recommend you contact one of these top immigration lawyers in Irmo, SC for the best service possible.
1. Andino Law Firm, LLC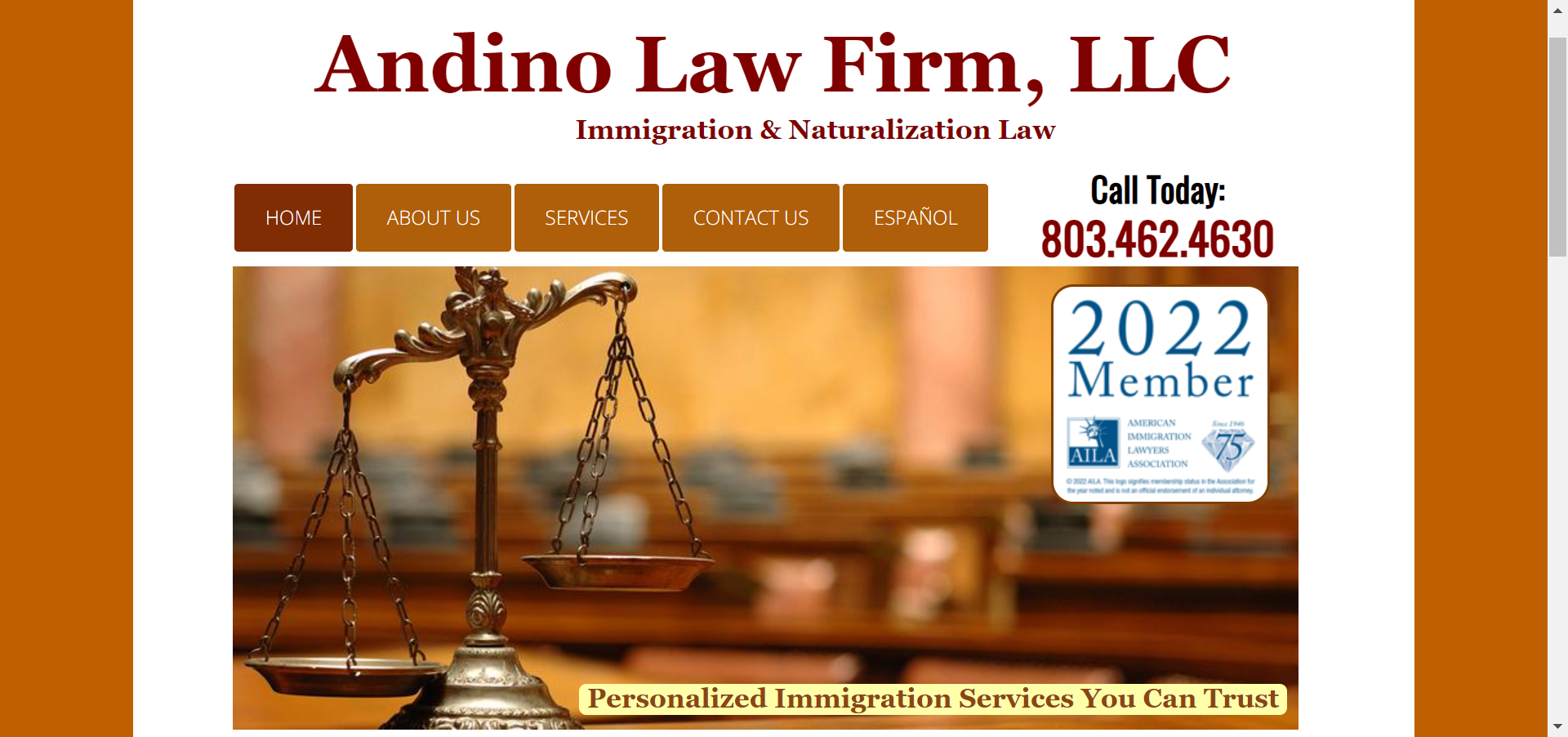 Andino Law Firm's mission is to offer professional, honest, and reliable legal services while advocating for and protecting their client's rights. They specialize in family-based immigration services and understand the importance of family unity. With experience representing individuals from over 50 countries, they provide personalized, one-on-one service to guide you through the complex immigration process. Their services include Citizenship/Naturalization, Adjustment of Status, Consular Processing, and more. They offer free initial consultations to help you understand your options and find the best path forward.
Address: 7340 Parklane Rd Suite 104, Columbia, SC 29223
Phone: (803) 462-4630
Website: http://www.andinolaw.com/
2. RF Johnson Jr. Law Offices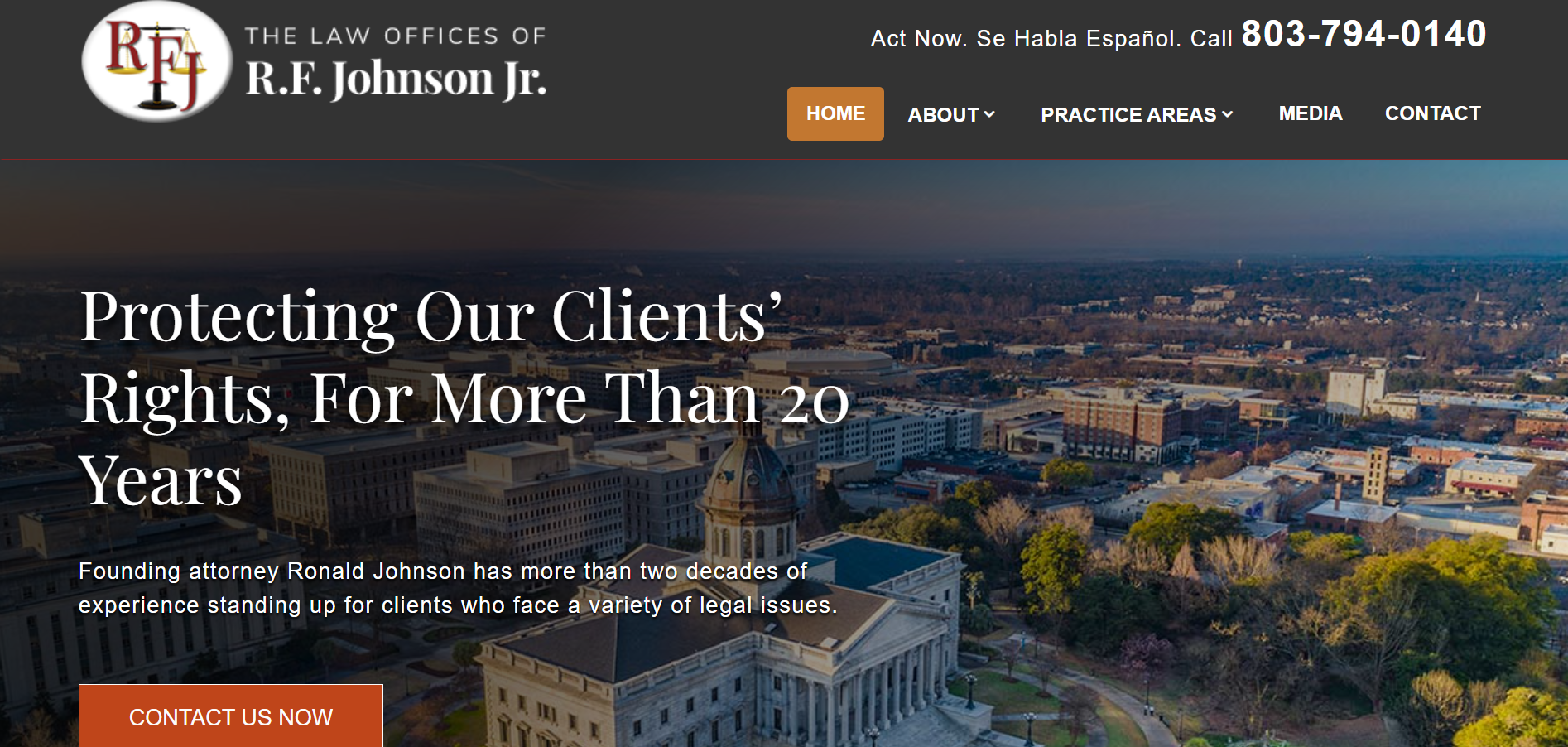 RF Johnson Jr. Law Offices, led by Ronald F. Johnson, is dedicated to providing legal support to immigrants and their families, focusing on staying together and pursuing their goals. As an experienced criminal defense attorney, Mr. Johnson understands the challenges immigrants face when dealing with criminal charges and can help prevent minor arrests from leading to removal. His services include assisting with Deferred Action Status, which provides protection from deportation and work authorization for eligible young immigrants. Contact RF Johnson Jr. Law Offices to make an informed decision for your immigration journey.
Address: 1905 Sunset Blvd Suite F, West Columbia, SC 29169
Phone: (803) 794-0140
Website: https://www.rfjohnsonlaw.com/

3. Pinilla Law Firm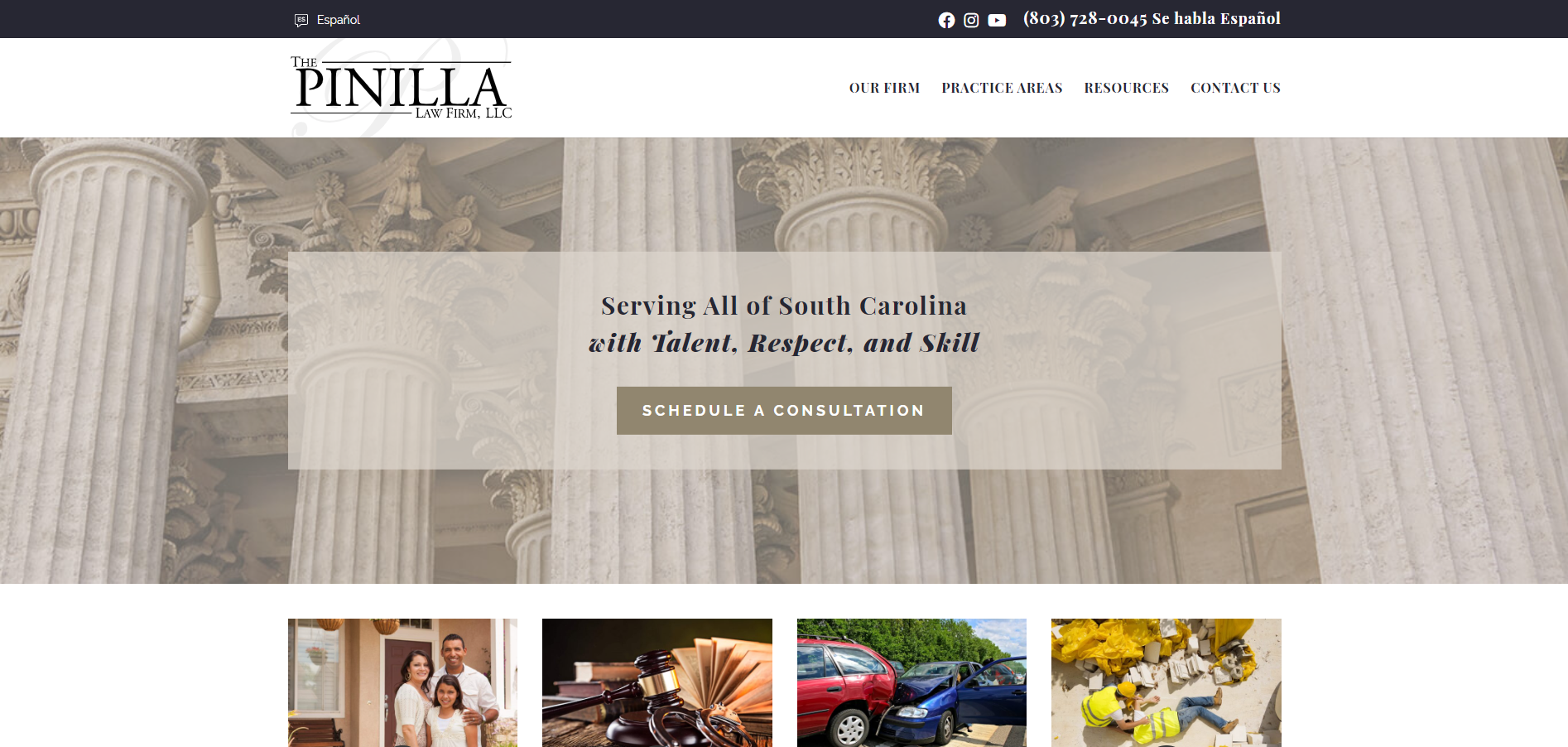 Pinilla Law Firm is dedicated to helping individuals, families, and businesses navigate the complexities of the U.S. immigration system. Their experienced team is well-versed in handling various immigration matters, such as obtaining visas, fighting deportation, and pursuing citizenship. Pinilla Law Firm specializes in Immigration Visas, Non-Immigrant Visas, Removal/Deportation, Citizenship and Naturalization, and Business Immigration. If you're looking for a law firm that will work tirelessly to secure your visa or citizenship status, Pinilla Law Firm is an excellent choice.
Address: 7 Surrey Ct A, Columbia, SC 29212
Phone: (803) 728-0045
Website: https://www.pinilla-law.com/

4. Charles A. Phipps


Charles A. Phipps is a seasoned immigration attorney representing clients throughout South Carolina on various immigration issues. He regularly appears in Immigration Courts in Charlotte, North Carolina, and Atlanta, Georgia, to represent clients in removal proceedings. Mr. Phipps also assists with applications for permanent resident status, naturalization, asylum, and more. With a background in intercultural communication and extensive experience in immigration law, Mr. Phipps can help you navigate the complicated U.S. immigration system with confidence.
Address: 6156 St Andrews Rd Ste 106, Columbia, SC 29212
Phone: (803) 732-3797
Website: http://charlesaphipps.com/
5. Law Office of Smokey Brown, PC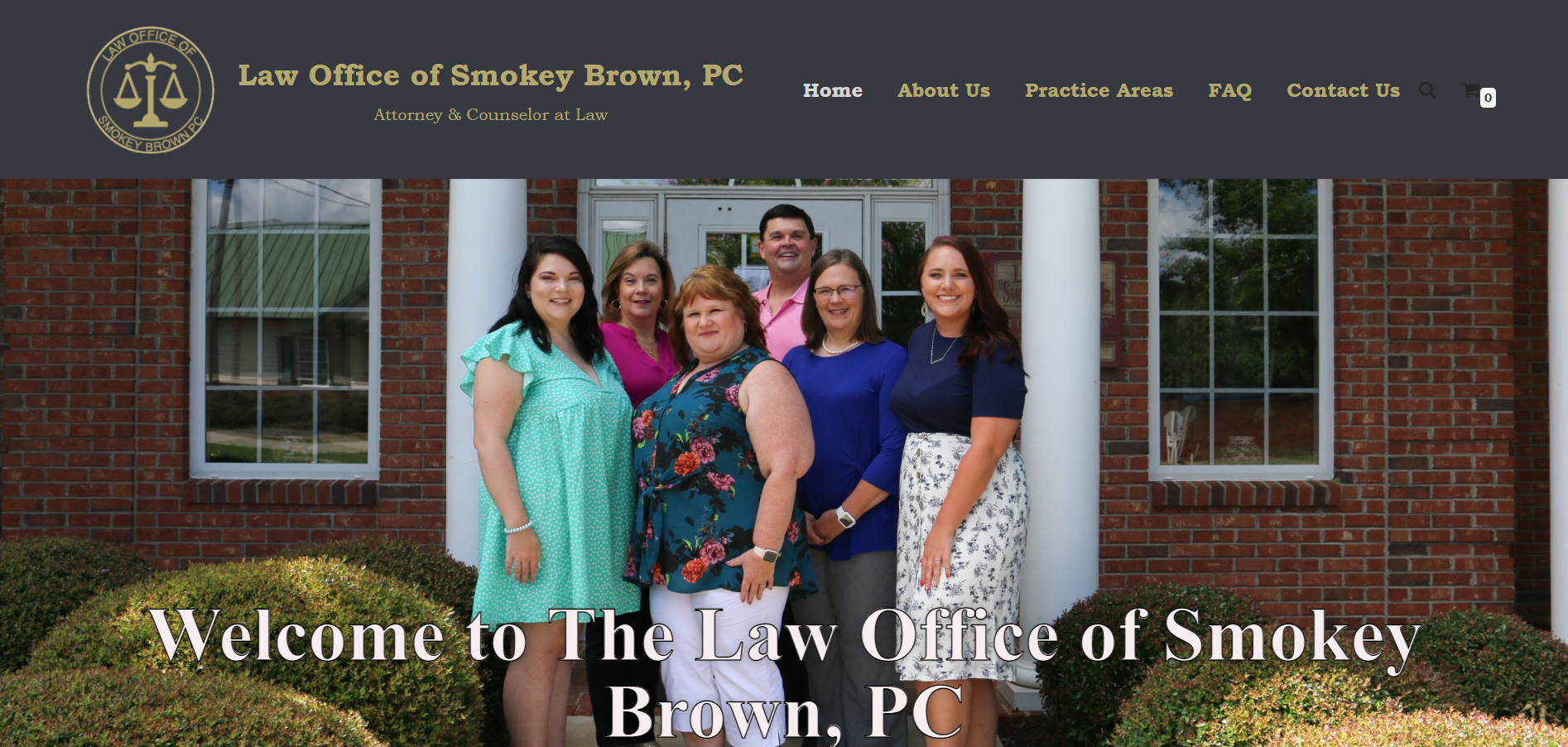 Founded in 2001, the Law Office of Smokey Brown, PC has become a reputable name within the Irmo community for providing top-quality legal services. With a focus on immigration law, the firm is dedicated to guiding clients through the complexities of the process, ensuring they feel heard and understood. The compassionate team at Smokey Brown prides itself on building strong, long-lasting relationships with its clients, which include newcomers to the area and returning clients who have had positive experiences in the past.
When seeking a reliable and empathetic immigration lawyer in Irmo, SC, the Law Office of Smokey Brown, PC is an outstanding choice. Their commitment to excellence and genuine concern for their client's well-being makes them dependable partners in navigating the intricacies of the immigration process.
Address: 7567 St Andrews Rd, Irmo, SC 29063
Phone: (803) 732-3797
Website: http://www.smokeybrownlaw.com/

Selecting the right immigration lawyer is vital for a successful outcome in your case. The top 5 immigration lawyers in Irmo, SC, listed above have demonstrated their expertise and dedication to their clients, making them excellent choices for your immigration needs. No matter which lawyer you choose, you can be confident that they will work diligently to guide you through the complexities of the immigration process and protect your rights.
What inquiries should I make during an immigration lawyer consultation?
During an initial consultation, it's essential to ask about the lawyer's experience handling similar cases, their success rate, and the expected timeline for your case. Additionally, inquire about potential challenges, the lawyer's communication style, and their fee structure.
Can engaging an immigration lawyer to expedite the process?
While an immigration lawyer may not necessarily speed up the process, their expertise and knowledge can help avoid delays due to incomplete or incorrect paperwork, ensuring your case proceeds as smoothly as possible. They can also provide valuable guidance and representation, increasing your chances of a favorable outcome.
What is the typical duration for immigration cases in Irmo, SC?
The duration of immigration cases can vary significantly, depending on factors such as the type of application, the specific circumstances, and the workload of the immigration office handling the case. While some cases may take only a few months, others can extend to several years. An experienced immigration lawyer can provide a more accurate estimate based on your unique situation.
How do I choose the best immigration lawyer for my case in Irmo, SC?
When selecting an immigration lawyer, consider their experience, success rate, and areas of expertise. Seek recommendations from friends, family, or online reviews. Additionally, during an initial consultation, gauge their communication style, responsiveness, and willingness to address your concerns, as well as their fee structure.
What services can I expect from an immigration lawyer in Irmo, SC?
An experienced immigration lawyer can provide comprehensive services, including case preparation and filing, representation during court appearances, assistance with visas and green cards, and advice on deportation or removal proceedings. They can also help identify potential challenges to your application and explain them in detail. Finally, an immigration lawyer can represent you in appeals and hearings related to your case.