Are you looking for an experienced personal injury lawyer in Irmo, SC? Do you have a legal case related to your workplace, medical malpractice, or car accident that needs special attention and care? Finding the right attorney is essential for having justice served on your behalf. To assist with this search, we've gathered five of the most trusted and experienced personal injury lawyers in Irmo, SC.
Law Offices of Carter Martling PC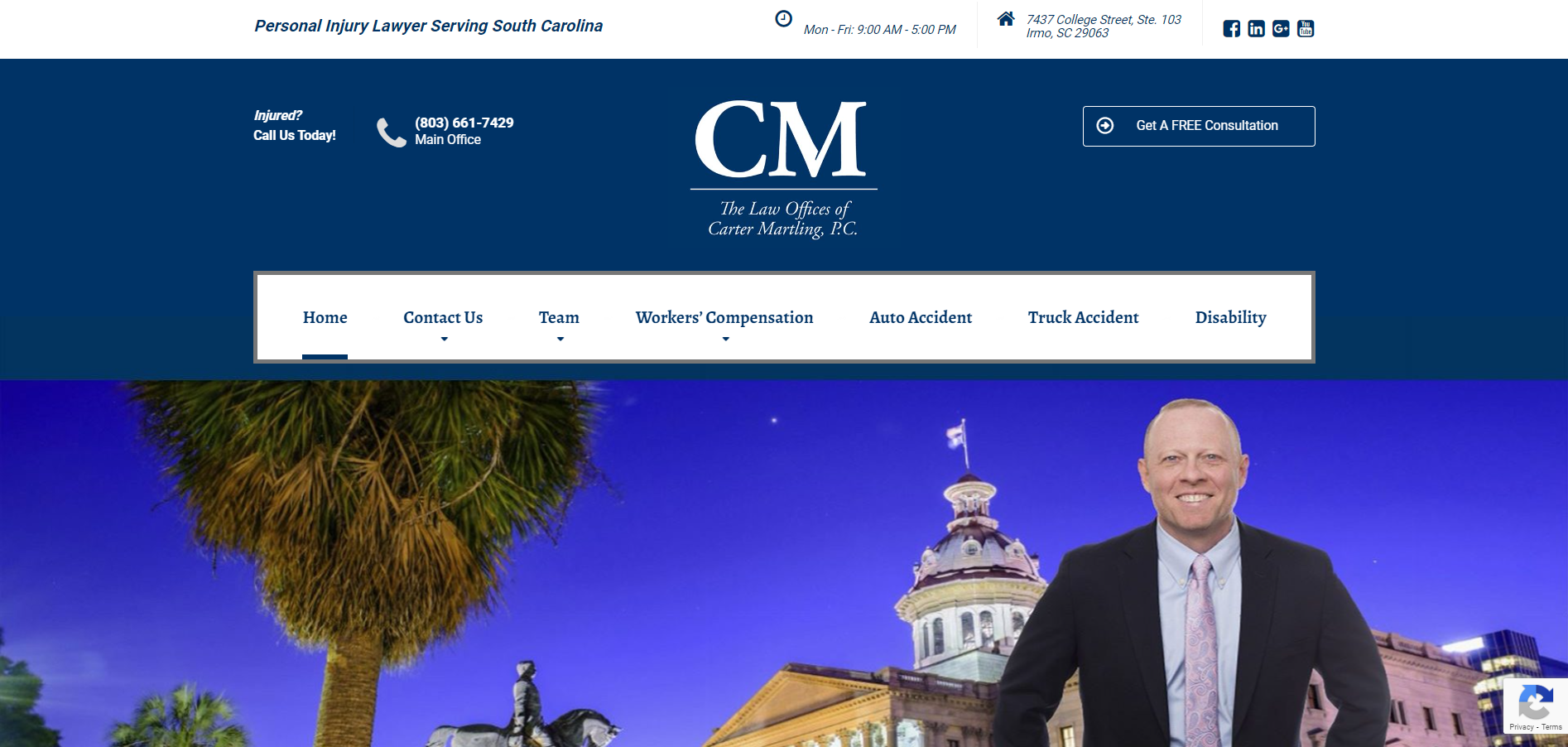 Located in downtown Irmo, the Law Offices of Carter Martling PC are dedicated to serving clients throughout South Carolina. With years of experience in workers' compensation and personal injury defense, Carter Martling now focuses on helping injured individuals navigate the complexities of insurance claims. Clients can expect personalized attention and the assurance of an experienced attorney who understands their unique situation.
Address: 7437 College St #103, Irmo, SC 29063
Phone: (803) 661-7429
Website: http://cartermartlingpc.com/
George Sink, P.A. Injury Lawyers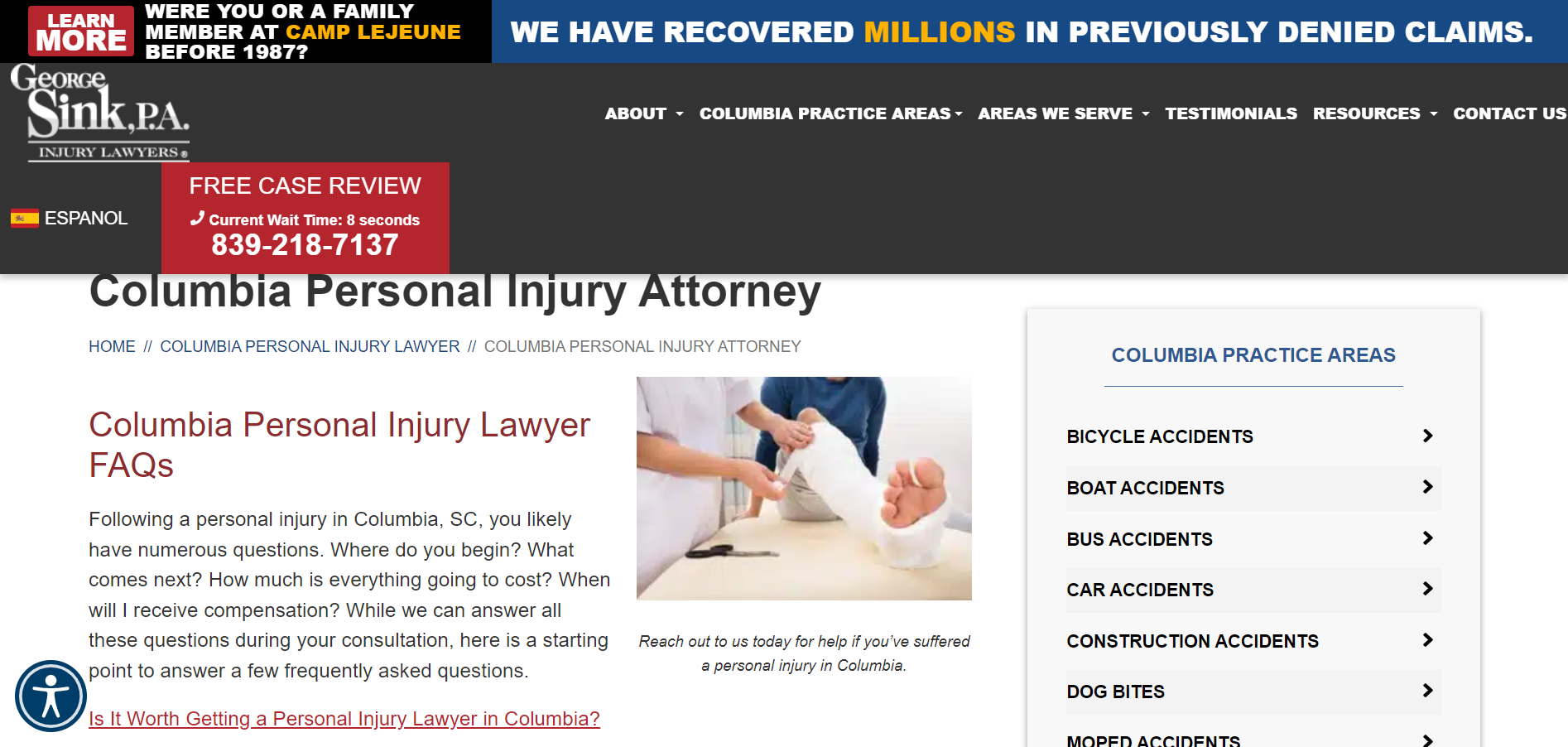 George Sink, P.A. Injury Lawyers is a well-established law firm serving clients in South Carolina for over 40 years. With a focus solely on personal injury and disability cases, their experienced lawyers are dedicated to helping those who have been injured or disabled to receive the financial compensation and support they deserve. They handle a wide range of cases, including auto accidents, slips and falls, dog bites, workplace injuries, and wrongful death. With a reputation for excellent service and successful results, they work tirelessly to navigate the complex legal system and insurance companies, allowing clients to focus on their recovery. If you need legal assistance for a personal injury or disability case, the knowledgeable team at George Sink, P.A. Injury Lawyers is there to help.
Address: 7567 St Andrews Rd, Irmo, SC 29063
Phone: (803) 999-2993
Website: https://www.sinklaw.com/columbia-personal-injury-lawyer/
Todd Ellis Law Office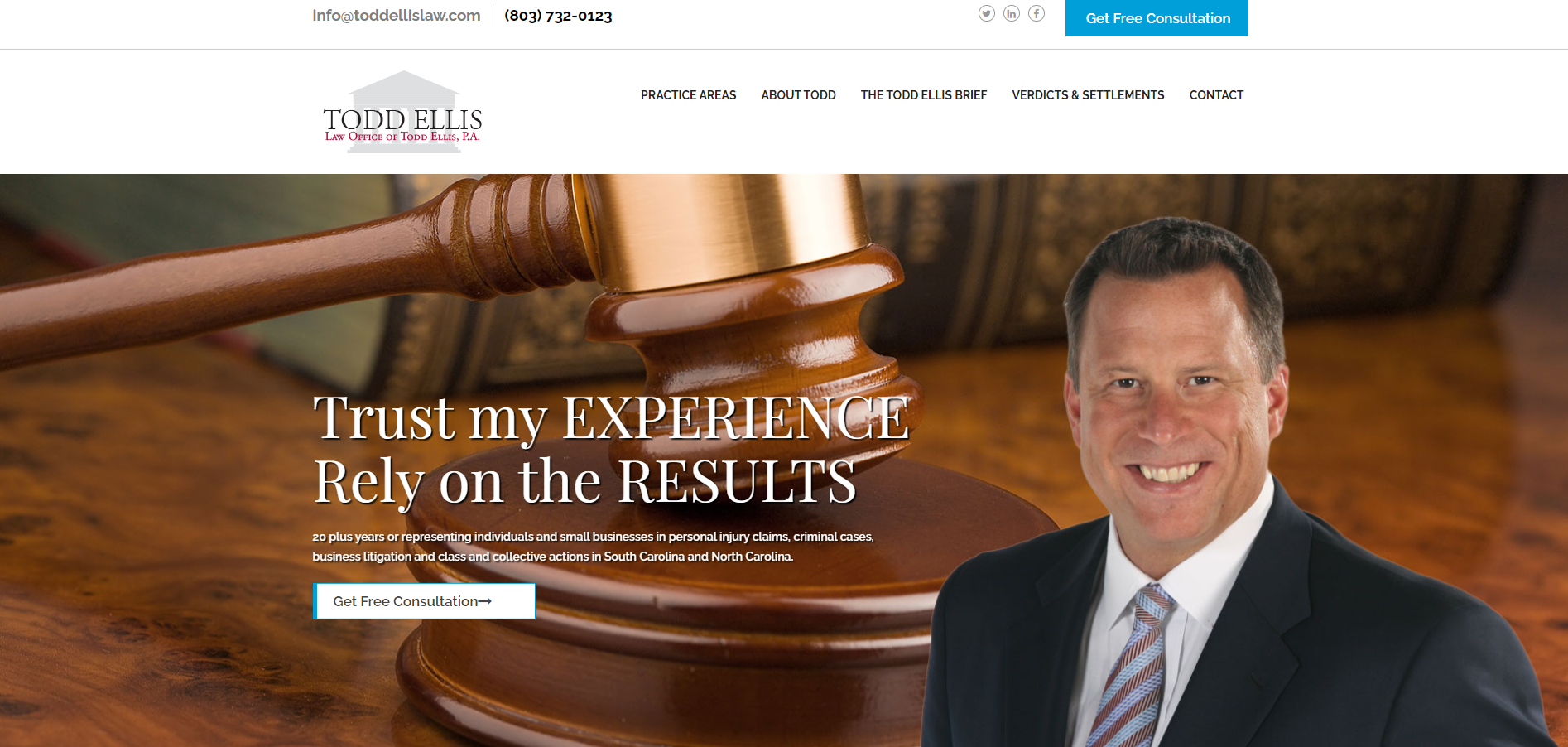 If you've experienced a personal injury in Irmo, South Carolina, Todd Ellis Law Office is the ideal place to find assistance. With over two decades of experience and expertise in Personal Injury and Property Damage cases, they are committed to helping clients get justice. Their swift response time provides helpful guidance throughout the legal system's complexity so victims can trust that their best interests will be looked after. Choose Todd Ellis Law Office for your invaluable advocate when it comes to getting results from unfortunate circumstances such as these!
Todd Ellis understands the physical, emotional, and financial impact of personal injuries and works tirelessly to ensure that his clients receive the compensation they deserve. He has a deep knowledge of personal injury law and knows how to get the best possible results for his clients. If you have been injured due to someone else's negligence, Todd Ellis Law Office can help you seek justice and recover the damages you are entitled to under the law. Don't wait to seek legal help. Contact Todd Ellis Law Office today for a free consultation.
Address: 7911 Broad River Rd Ste 100, Irmo, SC 29063
Phone: (803) 732-0123
Website: https://toddellislaw.com/
Tommy A. Thomas, Attorney at Law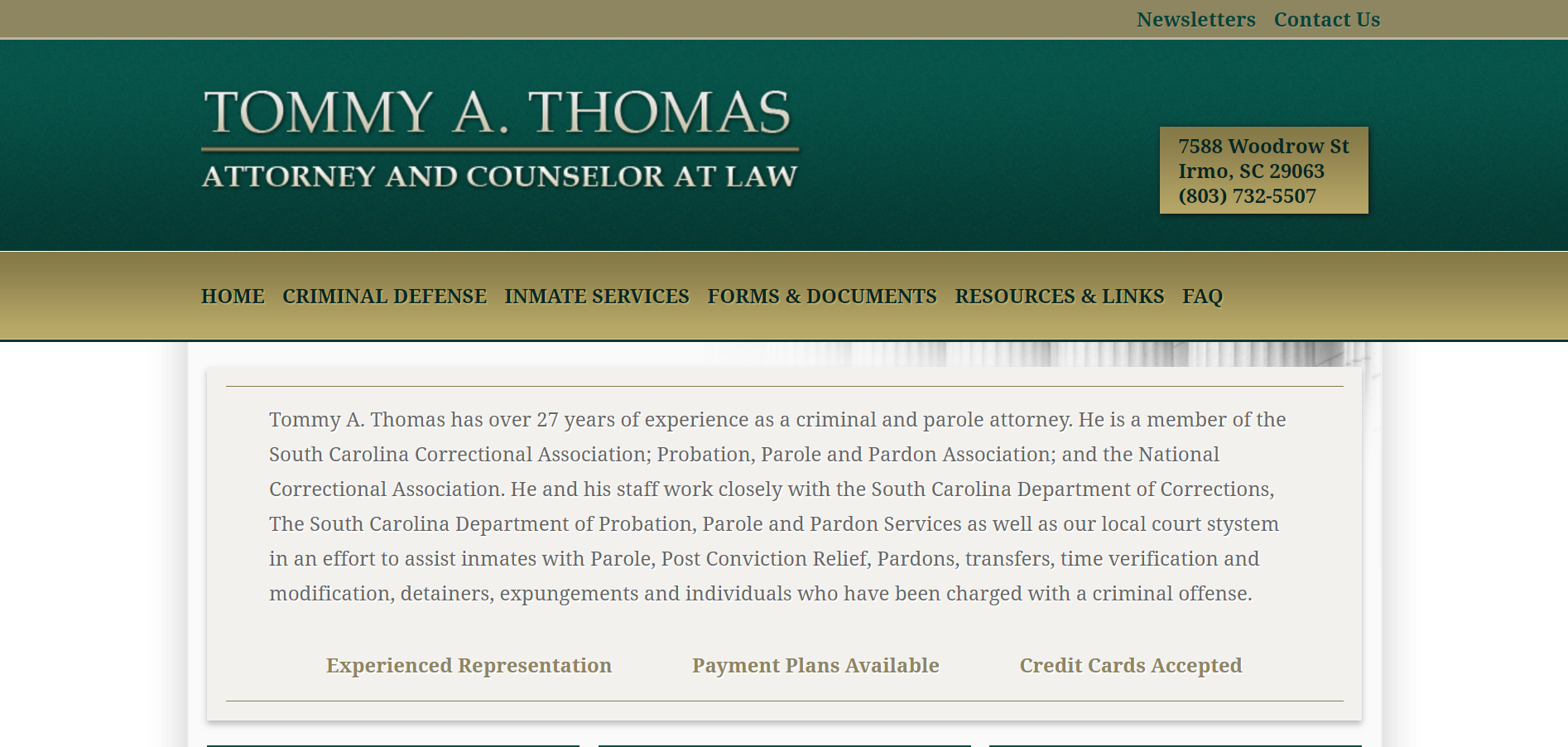 Tommy A. Thomas has worked in personal injury law for over 27 years and continues to fight fearlessly on behalf of injured individuals living in Irmo, South Carolina. His extensive knowledge and experience have provided countless clients with the justice they deserve, allowing them to obtain the compensation they are due by law.
As a member of the South Carolina Bar and other legal associations, Tommy A. Thomas deeply understands the laws and regulations governing personal injury cases. He works closely with his clients to build strong cases and fight for their rights. Whether you have been injured in a car accident, a slip and fall, or any other type of accident, Tommy A. Thomas has the expertise and skill to help you navigate the complex legal process and get the compensation you deserve.
With his dedication to his clients and his passion for justice, Tommy A. Thomas is one of the top personal injury lawyers in Irmo, South Carolina. Contact him today to schedule a consultation and discuss your case.
Address: 7588 Woodrow St, Irmo, SC 29063
Phone: (803) 732-5507
Website:https://www.paroleme.com/
Studemeyer Law Firm
While Studemeyer Law Firm is known for its expertise in complex business litigation and representation, it also offers legal services for personal injury cases. Their team of experienced attorneys understands the challenges and hardships of being injured due to someone else's negligence, and they are committed to helping their clients receive the compensation they deserve.
Studemeyer Law Firm can represent clients in various personal injury cases, including but not limited to automobile accidents, slip and fall accidents, and product liability cases. They work closely with their clients to understand their unique situations and develop effective strategies to help them achieve the best possible outcome.
With a focus on personalized attention and compassionate representation, Studemeyer Law Firm is a reliable choice for anyone needing legal assistance for their personal injury case.
Address: 7478 Carlisle St, Irmo, SC 29063
Phone: (803) 393-4399
Website: http://www.studemeyerlawfirm.com/
How to Choose a Personal Injury Lawyer?
Choosing the right personal injury lawyer can be a daunting task. There are many factors to consider when making this decision, including experience, reputation, and cost. Here are some tips to help you choose the best personal injury lawyer for your case:
Look for Experience:
– Choose a lawyer with experience in handling cases similar to yours
– Seek a lawyer with a proven track record of success in handling similar cases
Check Reputation:
– Read online reviews, testimonials, and ratings from previous clients
– Determine the lawyer's work ethic, professionalism, and ability to handle complex cases
Consider Fees and Billing Practices:
– Inquire about the lawyer's fees and billing practices before signing any agreements
– Determine if the lawyer works on a contingency fee basis or charges hourly rates or flat fees
Schedule a Consultation:
– Meet with the lawyer to discuss your case and ask questions
– Use this opportunity to get to know the lawyer and see if you feel comfortable working with them
The Personal Injury Claim Process
The personal injury claim process can be complex and overwhelming, especially if you have never been through it before. Here are the basic steps involved in filing a personal injury claim:
– Gather evidence to support your claim
– File a claim with the at-fault party's insurance company
– Negotiate with the insurance company to reach a settlement
– If necessary, file a lawsuit and go to trial
Collect any compensation awarded by the court
A personal injury lawyer can help guide you through each step of this process, ensuring that you understand your rights and options every step.
Frequently Asked Questions
Here are some common questions that people have about personal injury law:
1. How long do I have to file a personal injury claim?

The time limit for filing a personal injury claim, known as the statute of limitations, varies depending on the state and the type of claim. In South Carolina, the statute of limitations for most personal injury cases is three years from the date of the accident or injury. However, there are exceptions to this rule, so it's important to consult with a personal injury lawyer as soon as possible after an accident.
2. What damages am I entitled to in a personal injury case?
The damages available in a personal injury case depend on the case's specific facts. In general, you may be entitled to compensation for medical bills, lost wages, property damage, and pain and suffering. If the at-fault party acted with gross negligence or intentional misconduct, you might also be entitled to punitive damages, which are intended to punish the wrongdoer and deter similar conduct in the future.
3. How much does a personal injury lawyer typically charge?
Many personal injury lawyers work on a contingency fee basis, meaning they only get paid if they win your case. The typical contingency fee is around one-third of the settlement or judgment amount. However, the exact fee may vary depending on the lawyer and the specifics of your case.
4. What if I was partially at fault for the accident?
If you were partially at fault for the accident, your compensation might be reduced or eliminated under the legal theory of comparative negligence. South Carolina follows a modified comparative negligence rule, which means that if you were less than 50% at fault for the accident, you could still recover damages. Still, the amount will be reduced by your percentage of fault. If you were 50% or more at fault, you might not be able to recover any damages.
5.Do I have to go to court to resolve my personal injury claim?
Not necessarily. Many personal injury claims are settled out of court through negotiations with the insurance company or the at-fault party. However, a lawsuit may be necessary if a settlement cannot be reached. Your personal injury lawyer can help you understand the pros and cons of going to court and guide you if necessary.
A personal injury lawyer can provide answers to these and other questions you may have about your case.
When you've been injured in an accident, the last thing you want to worry about is how you will pay your medical bills and support your family while you recover. That's where personal injury lawyers come in. They can help you navigate the complicated legal system and fight for your deserved compensation.
In Irmo, SC, there are many personal injury lawyers to choose from, each with its own unique approach and set of skills. By researching and following the tips outlined in this article, you can find the right lawyer to represent you and your interests. With the right lawyer, you can focus on your recovery and getting your life back on track.