When facing financial challenges, finding the right bankruptcy lawyer in Irmo, SC is crucial for a successful outcome. With so many options available, we've compiled a list of the top 5 bankruptcy lawyers in the area, ensuring you have access to experienced, knowledgeable, and compassionate legal assistance. Read on to learn more about each of these exceptional law firms.
1. STONE LAW FIRM, LLC


Stone Law Firm, LLC offers clients a fresh start by providing experienced guidance and support in navigating the complex bankruptcy world. With a hands-on approach and a strong track record of success, this South Carolina-based firm specializes in various bankruptcy matters, including Chapter 7 and Chapter 13 filings, foreclosure defense, and debt relief. The firm's principal attorney, Daniel Stone, boasts over 20 years of experience handling bankruptcy and debt settlement cases and has been elected committee member of the South Carolina Bankruptcy Law Association since 2007.
Clients can expect comprehensive advice and support from Stone Law Firm, as they handle all aspects of bankruptcy cases. Their commitment to client support, from filing paperwork and keeping track of deadlines to offering protection from creditors, has led to a successful track record in helping hundreds of people rebuild their lives after a bankruptcy.
For those in South Carolina seeking an experienced and compassionate bankruptcy attorney, Stone Law Firm, LLC is a top choice. Their dedication to handling all matters related to bankruptcy and their proven success in assisting clients make them an ideal option for those looking to regain control of their financial lives.
Address: 455 St Andrews Rd Bldg C-1, Columbia, SC 29210
Phone: (803) 389-0408
Website: https://danielstonelaw.com/
2. Meredith Law Firm, LLC
Meredith Law Firm, LLC has been providing expert legal counsel to individuals and small businesses since 1996. Founded by Robert R. Meredith, Jr., the firm specializes in bankruptcy law, with a focus on helping clients overcome financial difficulties and achieve a fresh start. Their compassionate and non-judgmental approach ensures that clients feel supported and understood throughout the entire process. With offices in Columbia, North Charleston, and Myrtle Beach, the firm offers free, confidential consultations to evaluate your options.
Services provided by Meredith Law Firm, LLC include Chapter 7 liquidation, Chapter 11 reorganization, and Chapter 13 reorganization. They also provide guidance on life after bankruptcy, giving clients the tools they need to rebuild their financial future. The attorneys at the firm are experienced courtroom advocates and are dedicated to helping clients successfully navigate the bankruptcy process.
Address: 1901 Assembly St #360, Columbia, SC 29201
Phone: (803) 451-5000
Website: https://meredithlawfirm.com/
3. Reed Law Firm, P.A.
Reed Law Firm, P.A. is a federally designated debt relief agency that takes pride in helping clients find hope for a debt-free future through bankruptcy. With over 15 years of experience, attorney Eric Reed focuses on Chapter 7 and Chapter 13 bankruptcy filings on behalf of individuals and small businesses. Serving clients throughout central and eastern South Carolina, the firm has offices in Columbia and Florence.
Reed Law Firm is dedicated to providing compassionate and nonjudgmental advocacy during difficult financial times. Services provided by the firm include stopping foreclosures, repossessions, creditor harassment, and lawsuits. They also assist with mortgage modifications, student loan debt, and tax debt. They offer a free initial consultation and are available for evening phone consultations for clients who cannot visit during regular business hours. Contact them today!
Address: 220 Stoneridge Dr #301, Columbia, SC 29210
Phone: (803) 807-2565
Website: https://www.reedlawsc.com/
4. Brunson Law LLC
Brunson Law LLC, founded by Colleen Brunson, specializes in bankruptcy law, specifically Chapter 7 and Chapter 13 cases. With a strong background in representing debtors, Brunson established the firm in 2012 after working at Moss & Associates, Attorneys, PA. Brunson Law LLC's primary focus is tailoring legal services to the specific needs of individual clients. 
Colleen Brunson is an active member of several legal associations and has been a speaker at the South Carolina Bankruptcy Law Association's seminar. Her firm has an AV Preeminent Rating from Martindale-Hubbell, which is the highest possible rating in both legal ability and ethical standards that an attorney can receive. Located in downtown Columbia, South Carolina, Brunson Law LLC offers free initial consultations and flexible appointment times, including after-hours and weekends.
Address: 1612 Marion St #310, Columbia, SC 29201
Phone: (803) 403-1955
Website: http://www.brunsonlawllc.com/
5. Finkel Law Firm LLC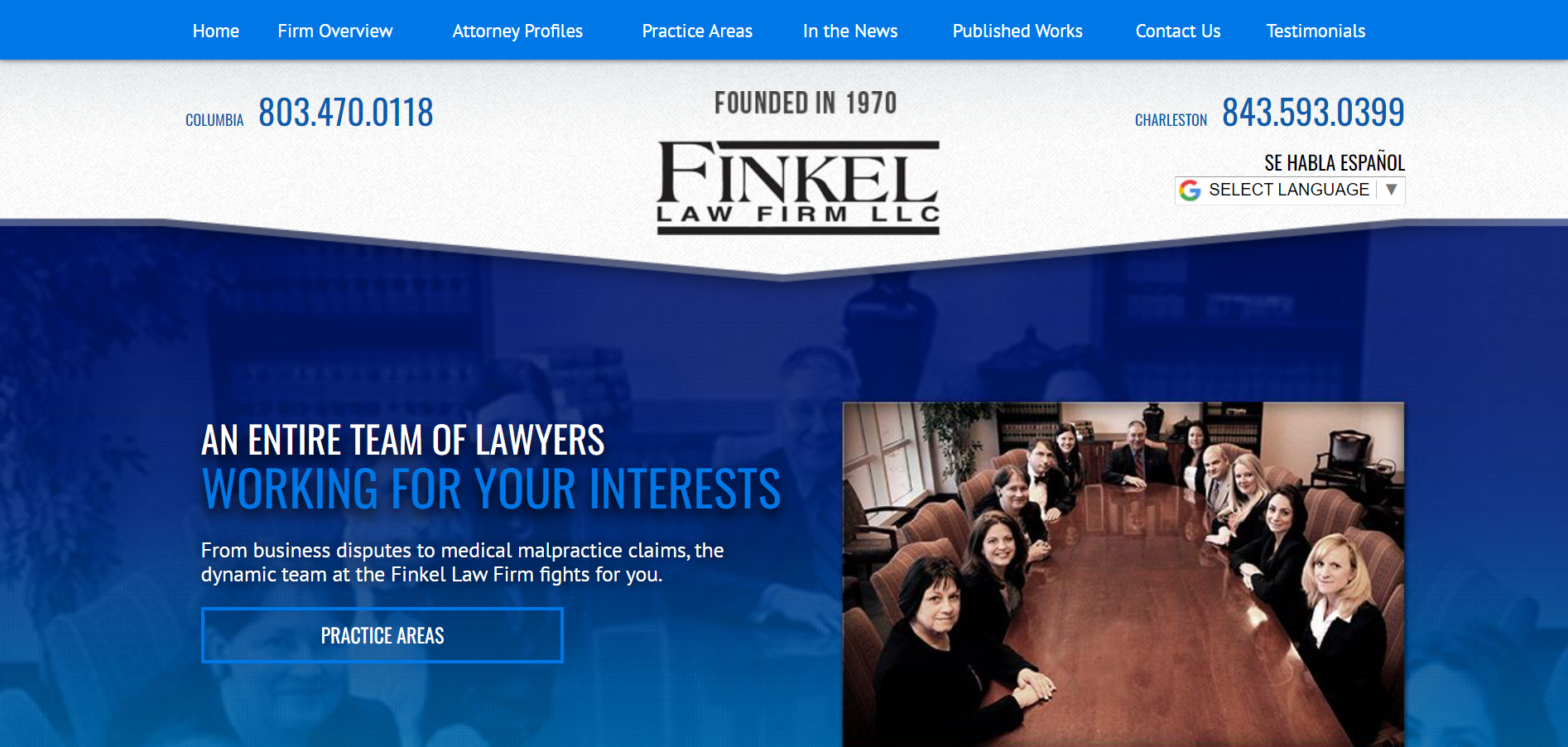 Finkel Law Firm LLC, founded in 1970, has a long history of serving the people and businesses of South Carolina. With experience in handling complex legal matters, the firm has represented clients in numerous landmark cases throughout the years. Finkel Law Firm's practice areas include business litigation, construction litigation, corporate law, divorce, medical malpractice, probate, and wills & trusts. The firm has consistently expanded its practice over the years and is now considered a full-service law firm, handling various types of litigation and other legal matters. 
With offices in Columbia and Charleston, Finkel Law Firm LLC is well-positioned to serve clients throughout South Carolina. The firm's attorneys are dedicated to the practice of law in South Carolina and actively participate in teaching and continuing legal education to remain at the forefront of emerging legal trends. The primary goal of Finkel Law Firm LLC is to provide quality legal services in a cost-efficient manner.
Address: 1201 Main St #1800, Columbia, SC 29201
Phone: (803) 470-0118
Website: https://www.finkellaw.com/
Facing bankruptcy can be a daunting and stressful experience, but these top 5 bankruptcy lawyers in Irmo, SC are here to provide expert guidance and support. Each firm is experienced in handling various bankruptcy cases and is committed to providing personalized solutions for your specific situation. By working with one of these reputable lawyers, you can feel confident that you're taking the right steps toward a fresh financial start.
1. What is the difference between Chapter 7, Chapter 11, and Chapter 13 bankruptcy?


Chapter 7 bankruptcy, often referred to as "liquidation," involves selling non-exempt assets to pay off unsecured debts. This type of bankruptcy is generally suited for individuals with limited income and assets, and it can discharge most unsecured debts.
Chapter 11 bankruptcy, typically used by businesses, involves the reorganization of a debtor's business affairs and assets. This type of bankruptcy allows the business to continue operating while restructuring its debts under a court-approved plan.
Chapter 13 bankruptcy, known as "reorganization" or "wage earner's plan," is designed for individuals with regular income who can pay back a portion of their debts over a 3-5 year period. This type of bankruptcy helps debtors keep their assets while repaying creditors through a court-approved payment plan.



2. How does filing for bankruptcy affect my credit score?
Filing for bankruptcy will have a negative impact on your credit score. The exact drop in score depends on various factors, such as your current score and the type of bankruptcy filed. A bankruptcy can remain on your credit report for up to 10 years, but the impact on your score will lessen over time as you rebuild your credit.



3. Can I keep my house or car if I file for bankruptcy?
In many cases, you may be able to keep your house or car when filing for bankruptcy. Under Chapter 13 bankruptcy, debtors can typically keep their assets while making payments through a court-approved plan. In Chapter 7 bankruptcy, certain exemptions may allow you to protect your home or car, but this will depend on your state's specific exemption laws.



4. What questions should I ask an attorney when considering bankruptcy?
When consulting with a bankruptcy attorney, consider asking the following questions:
What type of bankruptcy is best suited for my situation?

How long will the bankruptcy process take?

What are the fees associated with filing for bankruptcy?

How will bankruptcy affect my future financial prospects?

Can you provide references or testimonials from previous clients?



5. What is the most common bankruptcy procedure?
The most common bankruptcy procedure for individuals is Chapter 7 bankruptcy. This type of bankruptcy allows debtors to discharge most unsecured debts, such as credit card debt and medical bills, by liquidating non-exempt assets. For businesses, Chapter 11 bankruptcy is more common, as it allows the company to reorganize its debts and continue operating.



6. What are the benefits and risks of filing for bankruptcy?
Benefits of filing for bankruptcy include:
A fresh financial start by discharging or reorganizing debts

Protection from creditor harassment and lawsuits

Potential retention of assets, depending on the bankruptcy type and state exemptions
Risks associated with filing for bankruptcy include:
A significant negative impact on your credit score

Limited access to credit for several years following bankruptcy

Possible liquidation of non-exempt assets in a Chapter 7 bankruptcy

The potential stigma associated with bankruptcy, which can affect personal and professional relationships